We have many featured products you and your puppy are sure to love!
Nutrience Sub-Zero Single Protein Treats
These freeze-dried treats are made in Canada with high quality, fresh protein to ensure the natural goodness and rich flavours are preserved.
They're single protein formula makes these a great puppy training treat as they are easy on their digestive system.
RC Pet Products
This line of pet products is a favourite at All for Pets! They are perfect for a growing puppy!
There is no need to worry about trachea damage, because all of RC's harnesses stay well away from your puppy's neck.
With many sizes, styles and fits you can get exactly what you need to walk your puppy comfortably and safely.
The Granville Island Pet Treatery Dried Sardines
These treats are highly recommended by All for Pets staff as a great treat for puppies.
They are not only tasty, but also easy on your puppy's sensitive digestive system. Made of dried sardines with no additives and no preservatives and no harmful chemicals of any kind!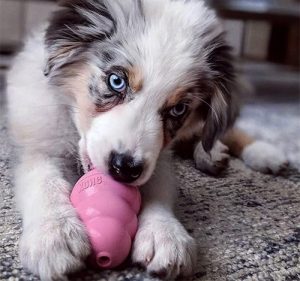 KONG Puppy Toy
This toy is customized for a growing puppy's baby teeth. The unique, all-natural rubber formula is the most gentle within the KONG rubber toy line.
Designed to meet the needs of a puppy's teeth, it helps teach appropriate chewing behavior while offering enrichment and satisfying a younger pup's instinctual needs while the erratic bounce make it ideal for those pups that just want to play.
A stuffed Puppy KONG occupies busy little ones while allowing pet parents the freedom to attend to their unique needs.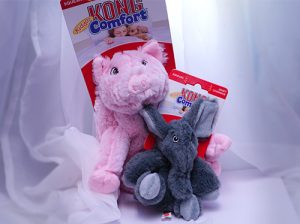 KONG Comfort Kiddos
These are ideal for puppy play and cuddle time. Featuring a low tone bellow squeaker that piques a pup's curiosity and a removable squeaker for quiet time.
The squeaker is easy to remove, making it ideal for cuddle time, and insert back into the toy for countless indoor play sessions.
These adorable critters come in 5 shapes and 3 sizes and are sure to delight pups and pet parents alike.
Unleashed Housebreaking Pee Pads
These pads feature Liquid Lock – they are ultra absorbent and help with odor control. Unleashed Housebreaking Pads are also scented to attract puppies making these pads super easy to use.
Pee Pads are an important part of owning a puppy, they help train your puppy and keep your home accident free!
Give us a call or come on by our store! We have everything you need to keep your new puppy happy and healthy!
Check back for more Specials happening all of the time, and please tell your friends!
All for Pets (604) 885-8843
Your Sunshine Coast Pet Headquarters
101 – 5461 Cowrie St. Sechelt, BC
Sunshine Coast, BC