Read inspiring stories from our wonderful customers about why they love their pets!
And check out who won our A Whole Lotta Love Shopping Extravaganza Contest
for 15 x $50 Sponsors Gift Cards worth $750.00!!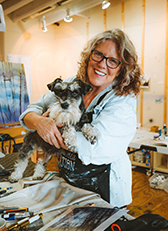 Sandy Kay with Jazz
"He's my buddy, loves me unconditionally and he's a pain in the ass."
Rob with Shilo
"Getting out and connecting with
people."
Edmund Arceo with Diego
"He loved each summer day and took every opportunity to dive fearlessly into the water. He welcomed snowfall like a visiting old friend. He lived life to the fullest, made friends
easily but stood up to bullies. He was with us for only a brief period of our lives, but what a great privilege it was being there for all of his. He will forever be in our hearts."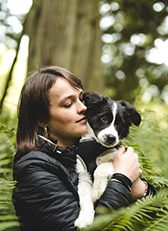 Tara Butler with Maize
"Maize teaches me more about myself than I could have ever imagined, and that's why I love her with my whole being."
Anne Marie & Bill Lasuta with Lucy and Roco
"We get up early and snuggle and it starts the day with lots of love and licks."
Wesley Progano with Koda
"The love an animal gives you, surpasses anything words can explain. Koda has helped me in life in so many ways and I'm so thankful to have him by my side"
Don McLean with Elton​
"Elton is such a character who 'talks' most of the day and relishes parading just out of reach of my dog Suka."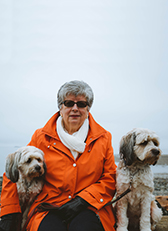 Corin Mullins with Joey and Bella
"Unconditional love 365 days a year."
​Brian Coxford with Enzo and Gracie
"They never let you have a bad
day, they are always there for you."
Shelby D. with Aloe
Shelby Loves riding horses because they are her passion. They make her happy and calm. "I love Aloe because she is stubborn. I push myself to the limit to ride better."
Bex Pfeifer with Lannibal Hector
"He makes me happy because he is a big old softy. He is an old soul and when you look at his face you notice his eyebrows look like heart shaped glasses. He makes everyone smile and just spreads positive energy."
Evva & Bill Bailey with Charlie
"Charlie is my every day companion, second best friend, always with me day and night."
Dave and Emily Rush with Teddy
"He is loving, smart and makes me happy."
Erika McLean with Savana
She's my shadow and intuitively knows what I need, a walk in the forest or an extended belly rub. She can be independent and not listen, just like I sometimes am!
We look forward to seeing you soon. Come on by and bring your pet with you for some tasty treats!
All for Pets Holdings Ltd.
(604) 885-8843
5641 Cowrie St.
Sechelt, BC V0N 3A0
Canada