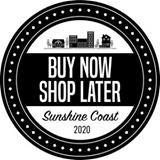 With the need for social distancing, isolation and quarantine measures right now, many of our local businesses are suffering greatly without any shoppers or customers to serve. Many of the shops and services that we all love and rely on will simply have to close for good. The Coast may never be the same again.
But we have the power to help right now, from home, by purchasing gift certificates for future use.
Help keep the lights on and pay it forward today.
Because let's be real—we're all going to need a haircut, fresh clothes, and a night out on the town when this is over! Wouldn't it be terrible if there was nowhere to go?