Celebrity Animals of War who have received Medals, Movie Roles and more….
War hero's come in all shapes and sizes – and species. In the 2nd part of our blog- unusual animals of war, we will learn about some of the unique animals that were awarded medals, put into museums and had movies made in their honor for their bravery and loyalty to the soldiers they served. Here are just a few of the many stories…
Sgt Bill (the goat) – Canadian Hero of World War 1
A train full of Canadian soldiers bought a goat as a mascot while they were passing through Broadview, Saskatchewan. They managed to avoid quarantine and smuggle the goat into France. Bill stayed with his
unit suffering shrapnel wounds, shell shock, and trench foot. He went missing once and was arrested for eating military equipment. Yet he was credited with saving at least three lives when he head-butted men into a trench to avoid and exploding shell.
Sgt. Bill was honored with the 1914 Star, the General Service Medal and the Victory Medal for his war efforts, and after being retired he was returned to Saskatchewan. After he died the goat was mounted and was put in a part of the Broadview Museum. The hero goat of World War 1 is the subject of an upcoming movie, the invincible Sgt Bill.
Wojtek- Polish Artillery Bear of World War 11
Wojtek was a Persian bear weighing 440-pounds, that was adopted by a unit of Polish soldiers under the British Army in the Middle East during WW2. Wojtek's mission was to fight off the Nazis.
His favorite activities included wrestling, drinking beer and taking showers. When he was deployed to Europe, the only way they could take Wojtek with them was to make him an "official soldier" so he became Corporal Wojtek of the artillery supply unit, and he was good at the job. The bear's finest hour came during the battle of Monte Cassino, when he loaded 100-pound artillery shells into trucks all day long, every day until the war was over.
The army honored Wojtek's service by putting his image carrying ammo on the unit's official badge. After the war ended, Wojtek was housed at the Edinburgh Zoo until his death in 1963. Wojtek was the subject of an upcoming film.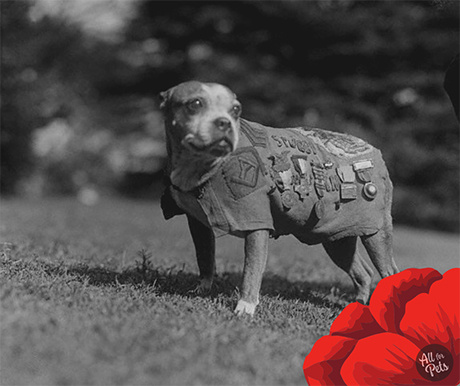 Sgt. Stubby- Hero Dog of World War 1
The 102nd Infantry of Massachusetts adopted Stubby when he wandered into their encampment on his own. When the infantry shipped out to Europe, Stubby was smuggled onto the ship bound for France. During World War 1, Stubby kept watch and alerted troops to German attacks. A hand grenade, gassed several times, wounded him and he once found a German spy and held him by the seat of his pants until American troops could complete the capture. When his master was wounded, Stubby accompanied him to the hospital and made rounds to cheer the troops.
He eventually became a highly decorated dog, amassing medals for service, campaigns, and battles. He was given a purple heart, and various veteran's awards. A group of French women made Stubby a chamois blanket decorated with Allied flags to display his medals.
When Stubby returned home at the end of the war, he became quite the celebrity. He was made a lifetime member of the American Legion, the YMCA, and the Red Cross. When Stubby passed away in 1926, he was preserved and displayed with his medals at the Smithsonian Institute.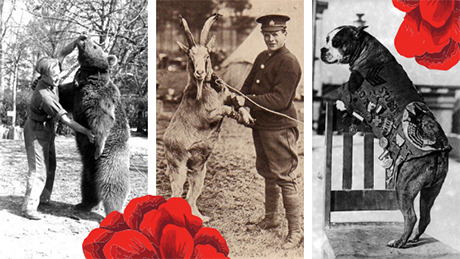 – Bev Coxford